Wholesale Distribution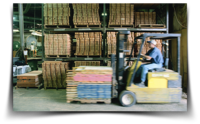 See how fully integrated, business software uses the cloud to make life easier and business better in the wholesale distribution sector.
Why choose InvoiceOcean?
InvoiceOcean's Wholesale Distribution software is designed for SMEs (small and medium-sized enterprises) in the wholesale sector. It seamlessly integrates logistics, inventory management and accounting to provide global, realtime insight into your business. All from the accessibility of the cloud.
The main benefits
Logistics, inventory management and accounting all in 1.
24/7 global insight of logistics, inventory management and administration.
Everything automated, from purchasing to sales and invoicing to returns.
Easy to set up and straightforward to run, with support and free training.
Monthly subscriptions.
Always one step ahead
InvoiceOcean's Wholesale Distribution tells you exactly what's happening in your company at any time and it is happening all in realtime. Check the current status of your profits and expenses within your account; check outstanding payments; check inventory and see orders all from the comforts of your desk. You can do this due to our SaaS software allowing you access across browsers, devices and irrespective of your geographical location. InvoiceOcean's smart, intuitive and insightful Wholesale Distribution helps to streamline your processes as well as arming you with the knowledge you need to respond quickly and effectively to any issues that may occur. From now on, you can always be in the office - even when you're not there physically.
Customer Focus
InvoiceOcean's Wholesale Distribution provides all the inventory management information you need to put customers first. In seconds. A smart and intuitive sales dashboard displays everything from to-do lists to turnover, to current orders. All in a single, central display. And the free app puts this business software onto your tablet and smartphone too, so it's easy to look up a contact or browse a catalogue from anywhere, thanks to the cloud. InvoiceOcewan's Wholesale Distribution keeps you informed, your customers happy - and your sales healthy.
Efficient logistics
The service also shows you the items you have in stock, the items that need to be ordered and the status of current orders in realtime -- at just a simple glance. If your stock falls below a certain level, you automatically receive an alert on your dashboard (the cloud always knows and keeps track.) Our system also helps you to enter stock counts straight into your account and then to update costs, print labels and more, all from the cloud. Together with access to supplier and customer agreements, it offers the insight you need to exercise full control of your business's shipments of products among other aspects. And if you want to arrange delivery directly from your supplier to your customer, guess what? Yes, it can do that too.
Effortless collaboration
Because InvoiceOcean's Wholesale Distribution follows everything from the cloud, collaboration is a breeze for both customers and suppliers at every step of the process. Inventory management is just the start. Using this service, it is easy to find and distribute the latest product and pricing information so that your customers can easily find. it Invoices can be sent via a digital mailbox or an email. Bank payments can be imported and matched to outstanding items, with statements automatically reconciled with payments. And insights into purchase history and supplier/customer agreements allow you to manage your margins and make sure you're getting the best deal all around. If you need to seamlessly connect a third party solution to your InvoiceOcean's software, that is no problem at all. In the cloud, there's plenty of room for everyone.