Szacowanie koralików na MiMUW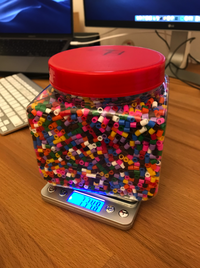 Na targach odbywających się na wydziale Informatyki Uniwersytetu Warszawskiego postawiliśmy przed studentami zadanie polegające na oszacowaniu ilości "koralików". Koraliki były dość małe i znajdowały się w zamkniętym pudełku (patrz zdjęcie obok).
Otrzymaliśmy kilkadziesiąt odpowiedzi. Szacowania ilości koralików były z przedziału od 3375 do 96000 (były też dużo większe wartości, ale je odrzuciliśmy). Średnia udzielonych odpowiedzi to 16403,95 natomiast mediana 11542. Po odrzuceniu po trzech skrajnych odpowiedzi, średnia wyszła już mniej trafnie: 13363,4.
Niestety, sami nie znaliśmy ilości koralików, więc musieliśmy je policzyć lub dokładnie oszacować. Z uwagi na to, że koralików było wiele tysięcy, wybraliśmy szacowanie przez ważenie. Zważyliśmy 100 koralików i ważyły one dokładnie 4 gramy. Całe pudełko wraz z koralikami ważyło 734,8g, natomiast samo pudełko ważyło 133g. Stąd nasze oszacowanie ilości to ((734,8 - 133) / 4) * 100 = 15045.
Najbliżej "poprawnej" odpowiedzi była osoba, która podała liczbę 14855, pomyłka była tu tylko o 194 koraliki. Gratulujemy.
---
---